On this weekend's gig we're fortunate enough to feature two extremely capable members of the happening Cape Town Ska band the Rudimentals, fresh from a wild weekend at Oppikoppi -- Simon Bates on Tenor Sax and Jody Engelbrecht on Trumpet.
As usual you can hear some great SA Big Band Jazz including some of Hanepoot's arrangements of SA jazz classics by the likes of Errol Dyers, Zakes Nkosi, Dollar Brand, Chris McGregor, Hugh Masekela and originals composed for the Biggish Band b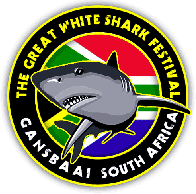 y Merton Barrow, David Ledbetter, Douglas Armstrong, 'Hanepoot' and others. Be prepared for Cape Town goema, Jo'burg marabi ann some trad big band swing ..
The Great White Shark Festival is a new event focused on highlight the plight of this magnificent beast which has been around for 300 million years (that is a 3 and 8 zeroes as in 30000000!) and now in a matter of a century of industrialisation, man is threatening it's existence ... more about the festival at www.whitesharkfestival.org
---
Some other Biggish Band gigs coming up:
Sept 8 -- the first of a series of monthly Saturday Afternoon summer concerts in Wynberg -- details to be confirmed

November 2 -- St Lukes Hospice Jazz in the Park, Maynardville
---
*If you have problems viewing the images in your emailed newsletter
view the press release online at http://www.jazz.co.za/hbb/pressreleases/070815.htm