This entertaining 18-piece big band led by Jannie 'Hanepoot' van Tonder will play two lively sets from its unique and strictly South African big band jazz collection.
You will be able to stomp the grapes for this year's Port, reserve your own bottle of Port, and bring your own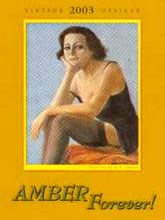 picnic to enjoy on the lawns of this historic homestead.
And while you're at it, why not try Muratie's own famous Hanepoot wine, known as 'Amber'. Amber was first produced by legendary Muratie artist and wine maker George Paul Canitz in the 1930's. The name Amber originated from both the colour of the product as well as the novel Forever Amber written by Cathleen Windsor in the 1920's. This novel is the story of a high class girl who kept some of the British upper class gentleman happy and content in the 1920's! Hence the quote by Canitz "To happy days and glorious nights, forever Amber".
The Biggish Band is an 18-piece Big Band led by trombonist Jannie 'Hanepoot' van Tonder and plays only South African jazz.
On Saturday the Biggish Band will take you through some of its own arrangements of South African jazz classics by the likes of Errol Dyers, Zakes Nkosi, Dollar Brand, Chris McGregor and Hugh Masekela, as well as some originals composed by Merton Barrow, David Ledbetter, Douglas Armstrong, 'Hanepoot' van Tonder and others. The music includes Cape Town goema, Johannesburg marabi and big band swing.
Next up is the Biggish Band's annual Concert at the Masque Theatre in Muizenberg, on Sunday March 16 -- this year we'll be featuring 3 of the Cape's most sought-after young musicians:
Lee Thomson on trumpet, Dan Shout on alto sax, and Kesivan Naidoo on drums.
At Muratie on Saturday the 'Stomp' will start at 15h00, and the music at 15h45, entrance is R40 per person, kids free. Bring your own blanket and your own picnic. Booking is essential.
To book and for more information, please contact Marieta of Muratie Wine Estate on (021) 865-2330, info@muratie.co.za or visit Muratie on the web at www.muratie.co.za.
The Muratie Wine Estate is on the R44 between Stellenbosch and Klapmuts. A map with directions to the venue is at the bottom of this newsletter.
---
Some other Biggish Band gigs coming up:

Sunday 9 March: Masque Theatre, Muizenberg, featuring Kes Naidoo, Lee Thomson and Dan Shout
---
*If you have problems viewing the images in your emailed newsletter
view the press release online at http://www.jazz.co.za/hbb/pressreleases/080226.htm

brought to you by