Hanepoot & the Biggish Band will be playing their special brand of South African Big Band Jazz at the Hout Bay Jazz Picnic, at Ambleside School, Sunday April 20 from 4 onwards.
Ambleside is an independent private school, affiliated to Ambleside Schools International, and this picnic will be a fundraiser towards school funds. Ambleside is committed to offering a life-changing education to children from all walks of life. To facilitate this they offer subsidised school fees to families in need of financial assistance. More info at www.amblesideschool.co.za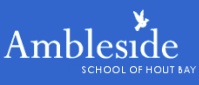 The Biggish Band is an entertaining 18-piece big band led by Jannie 'Hanepoot' van Tonder and will play two lively sets from its unique and strictly South African big band jazz collection, including some of its own arrangements of South African jazz classics by the likes of Errol Dyers, Zakes Nkosi, Dollar Brand, Chris McGregor and Hugh Masekela, as well as some originals composed by Merton Barrow, David Ledbetter, Douglas Armstrong, 'Hanepoot' van Tonder and others. The music includes Cape Town goema, Johannesburg marabi and big band swing.
On Sunday the picnic starts at 4pm, and the music at 6 pm. Food and snacks will be available at the Coffee Shop, or bring your own picnic to enjoy on the lawns.

Ambleside School is at 120 Milner Road, Hout Bay. Tickets are R50 for adults, R10 children, and can be booked by calling 072-674-7035.
---
| | |
| --- | --- |
| | The Biggish Band will be taking a break from performing during the winter of 2008, and this will be your last opportunity to see the band until later in the year, so take your chance, and join us on Sunday in Hout Bay .. |
---
*If you have problems viewing the images in your emailed newsletter
view the press release online at http://www.jazz.co.za/hbb/pressreleases/080415.htm

brought to you by