Here are some comments we have received about The South African Jazz Real Book Vol.1 "Jika":
The big band arraangements available on this site are all tried & tested and the Big Band arrangements have all been performed by various big bands in South Africa and abroad. They have all at some point been played by the Hanepoot Big Band, an 18-piece band in Cape Town specialising in South African jazz repertoire. Some have been performed by the Miagi National Youth Big Bands of 2007 & 2008, some by the Youth Big Bands at the Grahamstown Jazz Festival, some by the University of Cape Town Big Band, etc.
---



We've had various reports of performances by university and school bands in Australia, UK, Korea, Mongolia and USA, including






The Cape Jazz Collection was launched at events in Johannesburg and Cape Town during October 2008.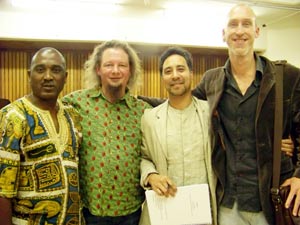 Charles Louw, Jannie van Tonder, Colin Miller and Buddy Wells at the launch at UCT College of Music in Cape Town.